Note: This post may contain affiliate links. Purchases made through my affiliate links provide a small commission for me at no extra cost to you. I only recommend products that I know/use.
If you are a new student, you may be unfamiliar with what a student ID card is.
A student ID card is a student identification card with a student's name, photo, identification number, and the school they attend all listed on it. Student ID cards are available to students who enroll in classes at a college. 
Students can then get student ID cards from their school (many schools require students to get a student ID). 
Let's go over alternative names for student IDs, how they are made, what they look like, if they expire, and how they are used.
Check out my favorite way to carry your student ID: small card slots that stick on the back of your phone that are leather or silicone. 
What is student ID called?
Student ID stands for student identification. These cards are also sometimes called college cards, campus cards, campus ID cards, or student cards. These cards contain the student's ID number, which can also be called the student number or the student's account number.  
Check out all the benefits of Prime Student. Click here to sign up for Prime Student.
How are student IDs made?
Student ID cards can be made by the school or outsourced—either way, a design template is used so that they are easy to customize with the student's picture, name, and student ID number. Most colleges have a badge printer that they then use to print the student's ID onto a blank plastic card. 
If the card has a magnetic strip or chip, the printer also encodes any required information.
If they are outsourced, the student IDs are customized, ordered, and shipped to the school. 
What do student IDs look like?
Student IDs generally look like typical plastic IDs with the student's name and photo. They also have the college's name and the student's ID number. The school's logo is often on the card, and it may have an expiration date (or sticker) on it and a magnetic strip or chip to access areas on campus. 
Student ID size 
While the size of a student ID card can vary depending on the school, the average size is 3.375 inches by 2.125 inches and 30mil thick. This is the same size and thickness as most credit cards and driver's licenses.
Student ID example
A student identification (ID) card is how you can identify yourself as a student at your school. The card has your student ID number and a photo on it.
This is my student ID from my local community college (with my address and student ID number blacked out):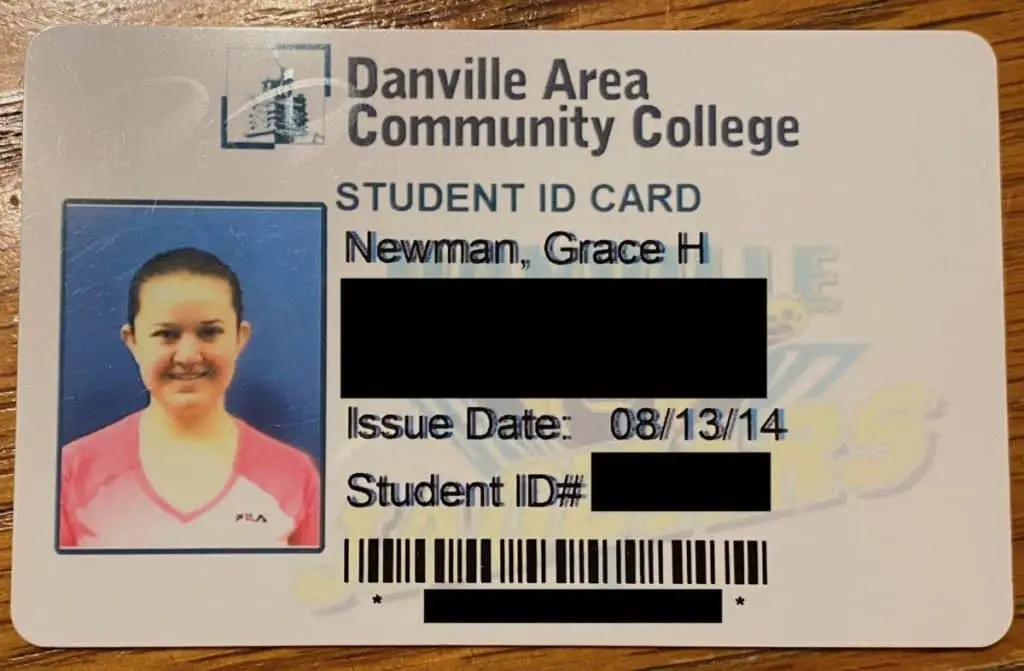 This is my student ID from ASU (with my student ID number blacked out):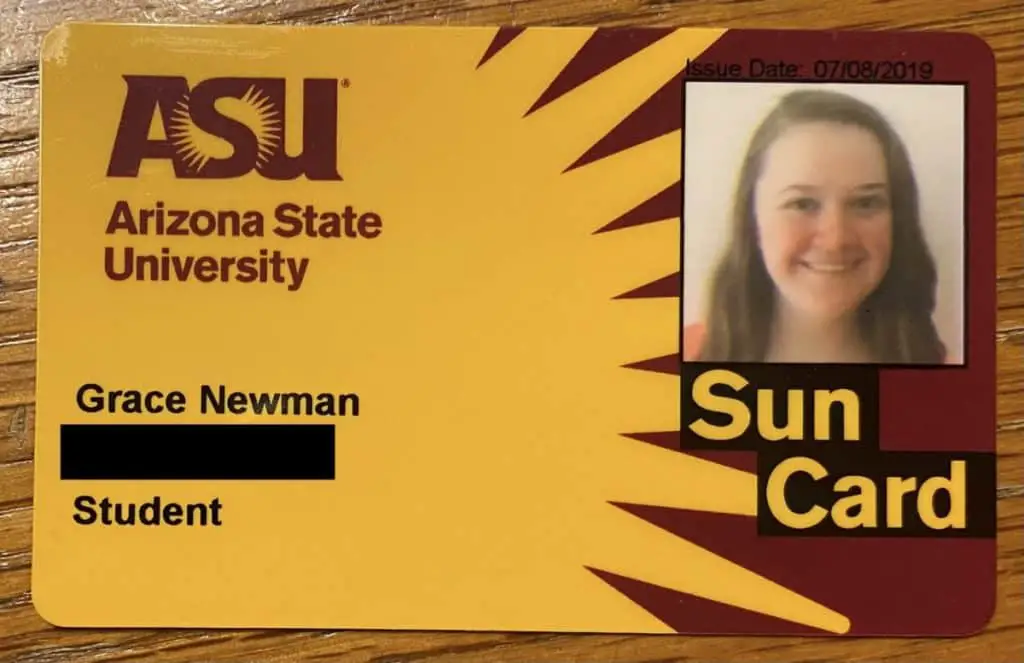 Is a student ID a state ID?
A student ID is not a state ID. It is issued by the school and therefore is not a form of government-issued ID. 
Learn more from Can Student ID Count as ID? Answers to 10+ FAQs

.
How old do you have to be to get a student ID?
There are no specific age requirements to get a student ID. If the person is old enough to be a student enrolled at the school, then they are eligible to get a student ID. 
If you are unsure about the age requirement to enroll at a school, you should reach out to their admissions department.
Can you get a new student ID?
Students can get a new student ID if their current student ID is damaged, lost, or stolen. If it is lost or stolen, students need to report it to their college so they can deactivate the card. Students can then request a new student ID which typically costs and requires a new photo.
Students will again need to show their current class schedule and their valid photo ID (such as a driver's license, state-issued ID, or passport).
Students normally cannot get a new student ID because they do not like their ID picture. 
Learn more about How to Replace a Student ID and how to take a good student ID picture.
Do student IDs expire?
Most student ID cards expire (are no longer valid and active) at some point, though when the student ID expires varies depending on the school. At many colleges, the student's ID card remains active until they are no longer enrolled in classes. However, some colleges require students to renew their student ID cards each year (or even each semester).
Some student IDs have the expiration date on the card, and some colleges also use stickers to show till when the student ID is valid.
If your student ID does not state an expiration date, check with your college about how long your student ID is valid.
Learn more about what it means for a student ID to be valid

.
How to change the expiration date on a student ID
If a student ID has an expiration date printed on the card or has an expiration sticker that has expired, the student will need to contact their college to get a new sticker or to get a new student ID with an updated expiration date. 
The college's ID center, student services, enrollment services, or bookstore normally handle issuing student IDs.
What can I do with my student ID card?
Students can use their student ID to identify themselves, access areas on campus, check out library books or use their printers, make bookstore purchases, prove identity for test taking, open a student checking account, and get student discounts. 
Check out 15+ Things a Student ID Can Be Used For

.
What happens to your student ID when you graduate?
When a student graduates (or shortly after, when it is registered that they are no longer enrolled in classes), their student ID becomes inactive and is no longer valid. They can keep their ID as a memento or possibly still use it for student discounts for a limited time, but the ID will become inactive with their college.
The student's ID number is also given inactive status and is not reused.
Now that you know what a student ID card is, find out more about what student ID numbers are

.
My favorite products for student IDs
Thank you for reading this article—I hope you found it helpful! Here are some of my favorite products for taking student ID photos and carrying student IDs that I hope you'll also find helpful.
Ring light for taking student ID photos: Use a ring light

to have your photo well-lit and help make you look good.
Card slots: I think the easiest way to carry your student ID is using card slots that are leather

or silicone

. They stick on the back of your phone so you will always have it with you and won't lose it.
To see all of my most up-to-date recommendations for tools and products for students, check out this resource

that I made for you!