Note: This post may contain affiliate links. Purchases made through my affiliate links provide a small commission for me at no extra cost to you. I only recommend products that I know/use.
You may be interested in taking notes on an iPad but not sure of the best way for college students to take notes on iPads.
College students take notes on iPads by getting a note-taking app and deciding whether to take handwritten notes with a stylus or type them. From there, they can become familiar with the app, decide on their note-taking style, turn the iPad on Do Not Disturb, and begin taking notes.
Let's look at what students take notes on, what apps they use to take notes on their iPad, how to take notes with and without a stylus, and tips for effective note-taking on an iPad.
Click here to check out the most popular products for college students. 
What do college students take notes on?
We know that iPads are good for note-taking

. Now, let's look at what college students take notes on.
Lectures
The primary thing that college students take notes about are lectures.
They can take notes on an in-person lecture or an online lecture.
IPads are ideal for in-person note-taking since they are quieter and more portable than laptops. They also allow for more flexibility and let you keep all your notes in one place, unlike traditional notebooks.
If you are taking notes on an online lecture, you can watch on your laptop and take notes on your iPad or use the split screen on your iPad.
Note: if you use the split screen feature a lot, then a bigger iPad screen will be more important. Learn more about the Best iPad for Note-Taking (Comparing All iPads)

.
Reading materials
The other thing that students take notes on is the assigned reading materials, such as books or handouts.
It is convenient to add slides, PDFs, or scanned handouts to your note-taking app and take notes directly on it.
Check out all the benefits of Prime Student. Click here to sign up for Prime Student.
What apps do students use to take notes on iPad?
There are many different apps that students use to take notes on iPads.
All good note-taking apps allow notes to be handwritten or typed on PDFs, have a search feature to find key information in your notes, and will be backed up.
They also allow you to add diagrams and images, and many apps allow you to add audio.
Let's look at some of the most popular note-taking apps.
Apple Notes App
The app that comes with all iPads is the Apple Notes App which is free.
This is a simple app that does not offer a ton of features, but it has a great search function and allows you to type and draw.
It also has handwriting recognition to text by clicking on the A on the pencil icon. This works well and is convenient if you have bad handwriting.
If you are looking for a simple but effective and free note-taking app, start by trying Apple Notes.
Google docs
If you are typing your notes only, Google doc is a fantastic free app. It has great functionality, and it easily syncs and is accessible between devices.
I like typing in Google docs. I like using their headers to organize information and seeing the outline on the left-hand side.
It is also convenient since you can write your essays on Google docs and do group projects through it. You only have to learn one app and don't need to mess with others.
Both Google docs and Google drive have a good search function.
If you are looking for a free and easy-to-use note-taking app for typing notes, try Google docs.
GoodNotes
The note-taking app that I use on my iPad and like is GoodNotes. It is only $7.99 (a one-time payment) and is super easy to use.
I wanted functionality and clear and easy use over an abundance of features.
It has everything that an ordinary college student would need—a variety of paper templates, easy-to-organize folders, and good search functionality.
It allows you to write on PDFs and easily export and share them, can be used to create flashcards, allows you to add images or audio, and has handwriting to text.
I recommend GoodNotes.
Notability
Notability is another popular note-taking app. It has a free version, but it is limited. The pro is $11.99 a year.
It is well-liked for drawing and offers different formats and pen styles. It also has stickers and planning tools.
OneNote
If you like Microsoft products and software, consider using OneNote.
OneNote has a free version, but for the pro version, you must have a Microsoft Office or a Microsoft 365 subscription which costs $6.99 a month. However, since many colleges give students a free subscription to Microsoft Office, which includes OneNote, it is often free for students.
Using OneNote can be good if you use some Apple products and some Microsoft. It is compatible with all the Microsoft programs like Word and Excel and is available on Macs and iPads.
It allows you to edit PDFs, create notebooks for each class, and organize separate tabs within the notebooks.
Nebo
Nebo is not as simple to use, but it offers a wide range of features. It is especially liked because it is good for math equations and works with 66 languages.
It has a free version, and the pro is a one-time payment of $8.
How to take notes on iPad with pencil
If you want to take notes efficiently on your iPad, take handwritten notes using a stylus. I love taking handwritten notes on my iPad with my Apple pencil.
To take notes on an iPad with a pencil or other stylus, you need to:
1. Get a stylus.
I recommend the Apple Pencil (1st generation

or 2nd generation

) because they work great, but there are other styluses available if you want a less expensive option—whichever stylus you prefer.
2. Choose your note-taking app and open it.
3. Become familiar with the app
In the app, become familiar with the pens, highlighters, and erasers you will use (they are all pretty self-explanatory and easy to use).
Learn features such as search and handwriting recognition.
Also, learn gestures used in the app, such as tapping 2 fingers to undo something.
Most apps store or backup your notes automatically (GoodNotes does), but it is worth checking if that is the case.
4. Enable palm rejection and single finger panning
Enable palm rejection so that you can rest your hand on your iPad without it writing or moving, and enable single finger panning so you can use your finger to scroll and your pencil to write.
In GoodNotes, the settings for these look like this: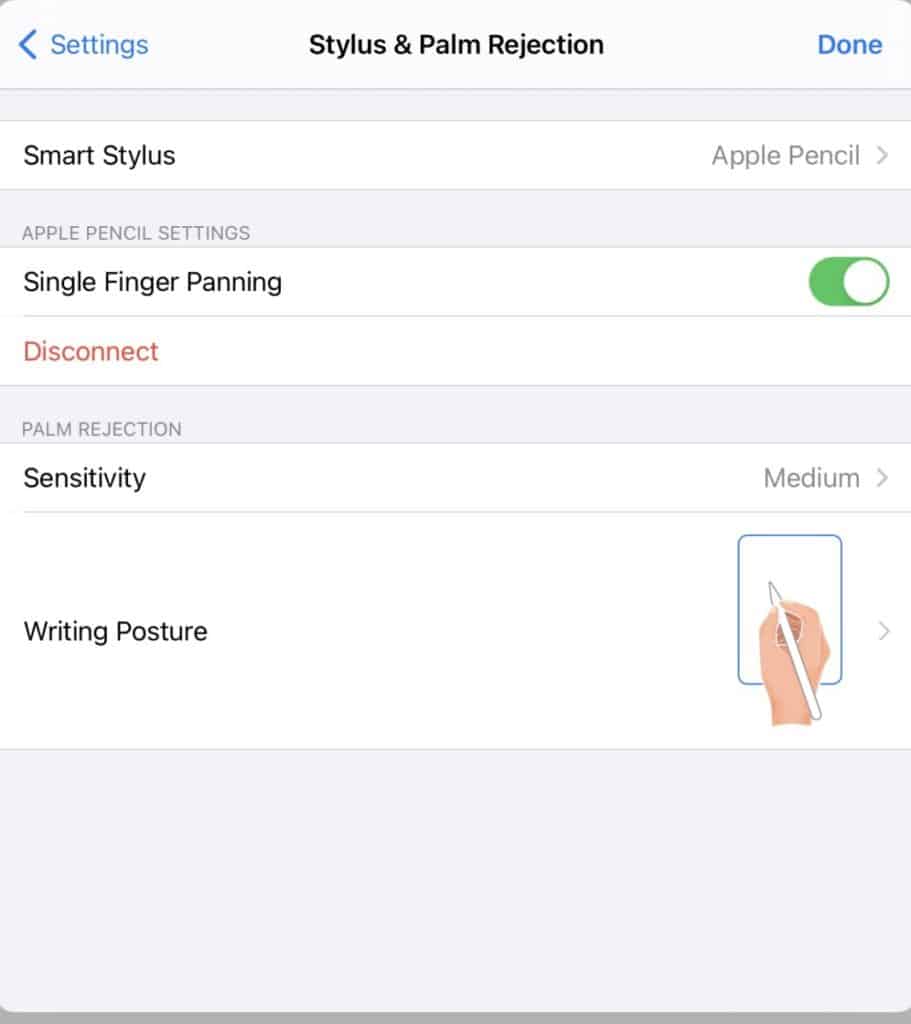 5. Decide on your note-taking style
Now that you are familiar with the features on your device, you need to decide what note-taking style you will use, such as linear notes

like outlines (the most common and easiest method), mind mapping, or the Cornell method.
6. Turn on Do Not Disturb and start taking notes
One of the biggest downsides to taking digital notes is that you can be distracted on your devices by emails or notifications.
An easy way to solve this is by closing your email and social media apps and turning on Do Not Disturb so that you do not get any notifications.
You are now ready to start taking your notes!
How to take notes on iPad without Apple Pencil
If you don't want to take handwritten notes using a stylus, you can take notes on your iPad by typing or using speech-to-text.
Typed notes on iPad
You can type your notes using the on-screen keyboard or, more efficiently, using a Bluetooth keyboard.
You can get an Apple keyboard

or other keyboards, such as those from Logitech.
From there, many of the steps are the same:
Set up your iPad and keyboard.
Choose your note-taking app and open it.
Become familiar with the app and learn the keyboard shortcuts.
Decide on your note-taking style (if you are typing your notes, you will probably use the outline method since many other methods, such as mind mapping, timelines, or the Cornell method, will be difficult to do when typing.)
Turn on Do Not Disturb and start taking notes.
If you intend to only type your notes, you should get a laptop (I recommend a Macbook Air

).
Learn more about the best laptops for college (requirements & discounts)

.
Speech-to-text notes
College students can also use their iPad for speech-to-text notes.
You can record the lecture and use the speech-to-text feature to give you a transcript.
If you are alone, you can do this by speaking your notes and having them turned into text (Google docs has a good speech-to-text feature).
Unless you require these accessibility features, I would not recommend using speech-to-text to take notes.
Having a transcript of the lecture does not help you process or retain the information the same way that practicing active listening and deciding what the main points and key details are and writing only those down.
Recording your notes by talking also doesn't allow for the functionality and formatting that is ideal for notes, such as indenting and bullet points.
Tips on how to take notes on iPad for school
Let's look at some tips for how to take notes on iPads:
Upload or scan the slides and handouts into the app so you can write directly on the PDF.
Use split-screen if you want to have more than one app open at once.
Turn on Do Not Disturb so you aren't distracted by emails or notifications while trying to take notes (this is important!)
Take clear and concise notes of the main ideas.
Use lined paper on the app or templates to help keep you organized and efficient.
Use headings and bullet points.
Use abbreviations and symbols to help you write faster.
Add images, diagrams, or audio recordings.
Use handwriting recognition if you have bad handwriting. It can turn your handwritten notes into typed notes.
Organize your notes with folders or notebooks for each class and clear document names.
Use the search feature to find specific information.
Organize your home screen and add your note-taking app to your iPad dock.
Review your notes regularly.
Now that you know how college students take notes on iPads, learn more about How to Take Better Notes in College

.