Note: This post may contain affiliate links. Purchases made through my affiliate links provide a small commission for me at no extra cost to you. I only recommend products that I know/use.
Do you want help paying for college? If so, completing the FAFSA (Free Application for Federal Student Aid) is the first step. This application has to be filled out by all college students (including students about to enter college) to see if they qualify for financial aid, including grants, loans, and scholarships.
Luckily, there are some easy tips to help you fill out the FAFSA and get the most financial aid.
All students need to fill out the FAFSA early every year. They should create an FSA ID, gather all the needed documents, and use the IRS Data Retrieval Tool. Before submitting the application, students should check for common errors, and after they should follow up with their school's financial aid office.
The application can seem overwhelming, but it isn't as complicated as it seems. 
From my research and years of filling out the FAFSA, here are the FAFSA tips that I have learned to make the process go smoothly and help you get the most financial aid.
Click here to check out Prime Student. It is my favorite way for students to save money and get great student deals!
1. Apply annually and early
If you only listen to one of my FAFSA tips, this is the most important one!
Everyone in college or thinking about attending needs to apply!
Don't just assume that you aren't eligible!
Do I have to fill out the FAFSA every year?
You have to reapply every year! It doesn't matter if your financial situation hasn't changed. You still have to reapply.
When should I fill out the FAFSA?
Oct. 1st of the year prior is the first day you can file the FAFSA. For example, the 2023-2024 FAFSA opened on October 1, 2022.
Students have several months to submit the FAFSA, but since some college or state aid deadlines are earlier than federal deadlines, and there is limited funding, you should fill out the FAFSA as soon as possible.
Waiting could literally cost you.
At the very least, file before Jan. 1st.
Note: There are changes being made to the 2024-2025 FAFSA, so it will open in December 2023 instead of October 2023.
Check out all the benefits of Prime Student. Click here to sign up for Prime Student.
2. Create an FSA ID

For your first time completing the FAFSA, you have to set up an account by creating an FSA (Federal Student Aid) ID and password. This Federal Student Aid ID will be used to sign your FAFSA and as your online identifier for all federal student aid programs. Write this down to use for future applications. 
If you are a dependent, your parents will also need to create an FSA ID.
Do this first, and don't forget to write it down!
3. Gather needed documents
Gather all the information that you need ahead of time.
One of the most common questions about the FAFSA is: "What do I need to fill out the FAFSA?"
You need:
Driver's license number (if you have one)
Social Security Numbers for you and your parents
Tax returns for you and your parents (if you're a dependent). You will use your return from 2 years prior. You can also use the IRS Data Retrieval Tool.
Other financial information: 

W-2 forms 
Bank statements
Records of investments
Records of income that isn't taxed

Federal school codes for the colleges you will be attending/are considering. You can find the school's code here. This code doesn't change, so write it down for next year. Since you can include up to 10 schools when you apply online, include the schools you are considering even if you haven't applied/been accepted yet.
4. Use the IRS Data Retrieval Tool
You can make the process easier for yourself by using the IRS Data Retrieval Tool. It will transfer your's and your parent's tax information straight from the IRS into your FAFSA application.
Note: You are using tax information from 2 years earlier. The 2023–24 FAFSA asks about 2021 tax information.
Tip: read the questions thoroughly, and don't rush through the application. Also, make sure that you write down your Save Key so that you can pick up where you left off if you need to save it and finish later.
5. Check for common errors
Mistakes can cause processing delays and prevent you from getting the most financial aid. To avoid this, before submitting, go back through and check for any mistakes.
In particular, check:
for any blank fields. You don't want to leave fields empty; put a "0" and a "N/A" instead.
that you put your correct name (as it appears on your social security card). 
that your address is correct (your permanent address, not your temporary campus address)
that your social security number and driver's license number (if applicable) are correct.
for correct tax information. Go off of your income tax return from two years prior.
that you listed all colleges that you are interested in attending (you can have up to 10).
6. Get help if needed
Check out the Student Aid website help section for useful guides and frequently asked questions, or call the Federal Student Aid Information Center at 1-800-4 FED AID (1-800-433-3243).
7. Follow up after you submit your FAFSA
After you complete your FAFSA, you want to do two things:
Keep a copy of your Confirmation page for your records. You can also print your FAFSA summary report.
Contact your school's financial aid office to see if you need to fill out any other forms. 
Frequently asked questions
What is the FAFSA?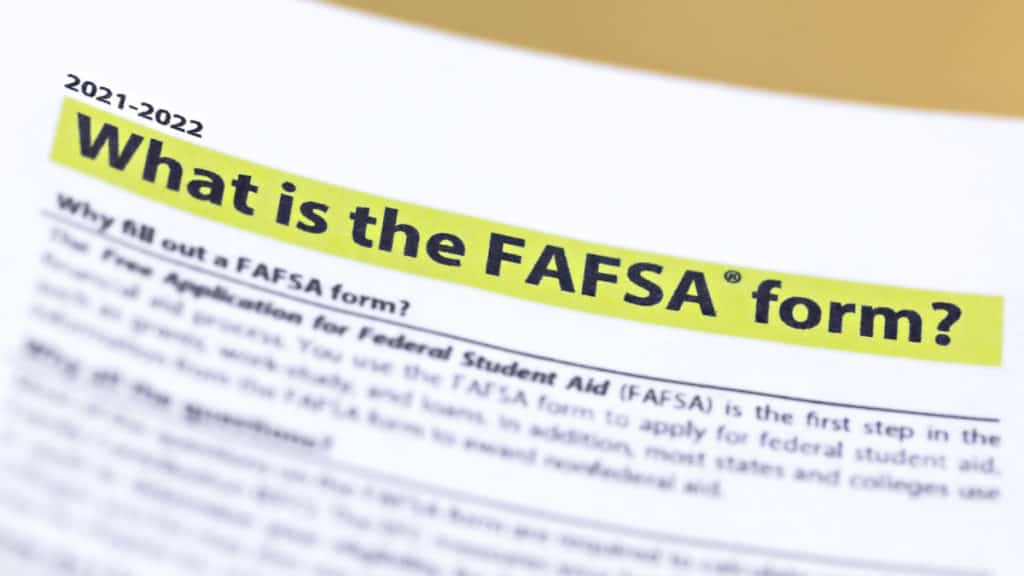 FAFSA stands for the Free Application for Federal Student Aid. This is the form that all college or graduate students must fill out to see if they qualify for financial aid, including grants, loans, and some scholarships.
Where do I find the FAFSA?
You can complete the FAFSA entirely online. It is available at Studentaid.gov

.
There are scams out there, so make sure that this is the website that you are using.
Does the student or parent fill out the FAFSA?
If the student is still a dependent, then both the student and parent must provide information needed to fill out the FAFSA, including their social security numbers, tax returns, and other financial information. They will also both need an FSA ID that acts as a legal signature. 
To determine if you are still a dependent, answer Studentaid.gov's dependency questions.
The student and parent can fill the form out together, or they can share the Save Key (temporary password), and both can work on their portion of the FAFSA on their own time.
How long does it take to fill out the FAFSA for the first time?
It takes most people less than an hour to fill out the FAFSA the first time. To make the process faster, complete the FAFSA online, create an FSA ID for both the student and parent in advance, have both the student's and parents' needed information ready, and use the IRS Data Retrieval Tool. 
It is faster if you fill out the FAFSA with your parents. That way, you can answer both the questions that pertain to you, and you can both immediately electronically sign and submit the application. 
After the first time, filling out the FAFSA is much quicker because you can complete a Renewal FAFSA where most of the questions are pre-filled with the information you provided last year. This makes it very easy to just update the questions about your's and your parents' tax returns and any information that has changed.
Can I still submit my FAFSA after the deadline?
You cannot submit your FAFSA after the Jun. 30th federal deadline. You must submit your FAFSA by Jun. 30th after the school year you need financial aid for. This means you would have to submit it by June 30, 2024, for the 2023-2024 school year. 
Keep in mind that this is the absolute latest that you are allowed to submit your FAFSA, but if you want to get financial aid, you need to submit your FAFSA as early as possible!!
I hope these FAFSA Tips help you. Pin/bookmark them for future reference.
For more tips on saving money in college, check out my post on when, where, and how to buy cheap textbooks.