Note: This post may contain affiliate links. Purchases made through my affiliate links provide a small commission for me at no extra cost to you. I only recommend products that I know/use.
I don't think there is anything more fun than playing with little kids. But, let's face it, it is also exhausting! When you have a chronic illness, you need to find easy activities you can do with kids. Things that can be done sitting or are calm/quiet. Here is my list of fun and easy activities with kids that don't require a lot of energy.
Read books
Reading books is one of my favorite activities to do with kids.
Here are a few of my favorite children's books. Most of these are books that I both loved as a kid and that I love reading with my nieces.
This is a fun little book. It is repetitious, and kids love that.
This was my favorite book when I was a little kid. It is all about the incredible importance of imagination!
A classic! This book is fun and very catchy (be warned, you may catch yourself thinking "I'll meet you at the top of the coconut tree" like a song that is stuck in your head).
This series is for a bit older kids (it isn't a super short picture book). As a kid, I loved all Junie B. books, but my favorite was Junie B. Jones and the Mushy Gushy Valentine. I thought it was hilarious!
Do puzzles
My nieces like doing puzzles. There are puzzles for all ages. This is an easy and quiet activity that you can do with kids! You can't beat that!
Play
Toys
They have all those toys for a reason. Play with the stuffed animals, beanie babies, and dolls.
Make-believe
My nieces have a kitchen set and beauty salon items that they like to play with. Even without specific toys, you can use real brushes or a nail file to play beauty salon and a pad of paper and your imagination to play "restaurant".
Right now, their favorite thing to play is superheroes. My favorite thing to play, especially when I am not feeling the best, is doctor. I lay down, and they treat my broken ankle or arm.
Barbies
We also love playing barbies! We had all my Barbies from when I was a little girl in storage, so we have lots to play with. My favorite dolls as a kid are now their favorites.
I also love seeing how differently they play. Kenzi's dolls have whole backstories and interact with each other. Quinn spends more time setting up the clothes or the food than actually playing. It is adorable to watch.
The best part is that this is a calm activity that can be played while sitting down.
Crafts
Make bracelets
You can get a jewelry-making kit, or you can just use pipe cleaners and beads.
We have done both, and honestly, I think the pipe cleaners might have been the bigger hit. They loved making them. They also liked that they could make a lot whenever they wanted.
Make Apple Suncatchers
Check out my post for the instructions for an adorable apple suncatcher

.
Make Paper Plate Snails
This paper plate snail craft

was super cute and easy to do! It is a great simple art project to do with kids. I would recommend it!
Experiments
Sink or Float: Easy Orange Experiment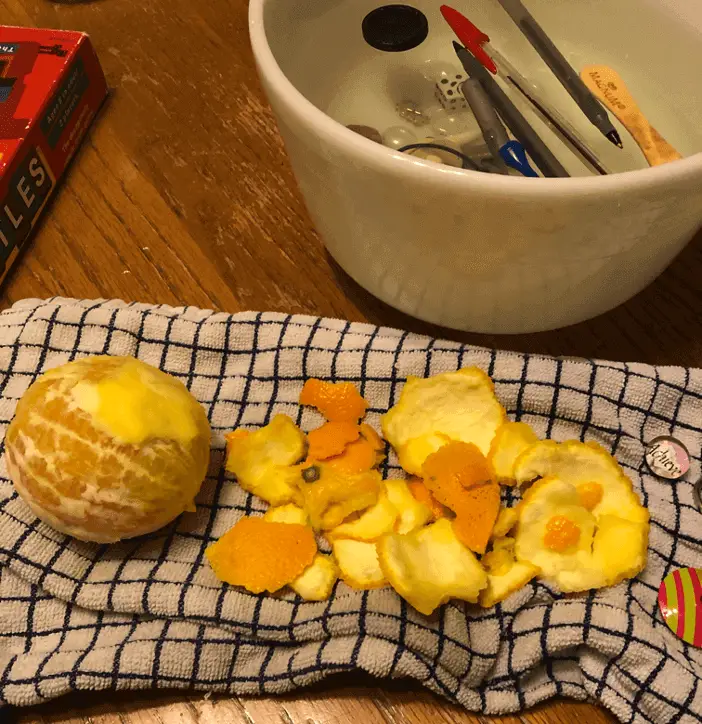 This kids science experiment to see if an orange sinks or floats

with and without it's peeling is fun, educational, quick, and easy!
Games
Board Games
My family are huge game players! It is one of our favorite things to do.
Ones that I like to play with my nieces are:
Yahtzee
Chutes and Ladders
Candy Land
Memory
Sorry
Jenga
Balloon Tennis
This is the one activity that cannot be done sitting, but it is so much fun that I included it. Keep this one reserved for a good day and save your energy in advance.
Balloon tennis

is easy to set up and a game the whole family will enjoy!
If you liked this post on easy activities with kids, please share it with your friends or pin it for later reference!
Comment below with any of your favorite activities with kids.